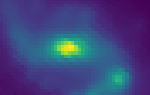 Galaxies in cosmic voids
I study low-mass galaxies located in the emptiest parts of the universe: cosmic voids.

Although most of the matter in the universe is located in long, thin structures called "cosmic filaments," some galaxies live in the vast, low-density voids between these filaments. My goal is to compare galaxies in voids and filaments to learn about how their environments have shaped their evolution.

To do this, I'm using the Keck Cosmic Web Imager to study the compositions and motions of stars and gas in several nearby galaxies.

Results are coming soon! In the meantime, if you want to know more about this project, check out this outreach talk I gave at Caltech.